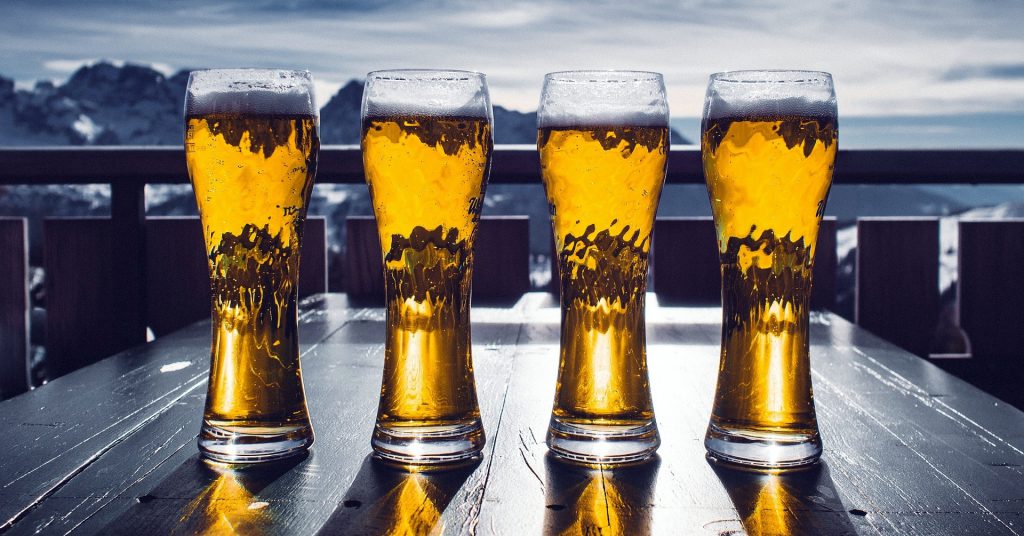 Ein wesentlicher "Link" zwischen den Vertretern der Homöopathie und der Politik ist das Beschwören einer vorgeblichen "Beliebtheit" der Zuckerkugeltherapie. Oft genug hat das INH vorgebracht, dass dies ja schließlich kein Argument in einem medizinisch-wissenschaftlichen Diskurs sei. Dafür braucht man gar nicht das im Titel angezogene "Freibier"-Beispiel zu nehmen – bei dem liegt die Beliebtheit auf der Hand. Bei Homöopathie keineswegs.
Es ist doch klar, dass sanfte, nebenwirkungsfreie, sichere und dazu auch noch wirksame Therapien von jedermann gewünscht werden. Es leuchtet aber ebenso ein, dass all diese Attribute dann völlig nutzlos sind, wenn die dahinterliegende Therapie schlicht und einfach unwirksam ist. Das "Beliebtheitsargument" rückt allein die erste Aussage in den Vordergrund und unterschlägt die zweite.  Eine "Argumentation", die geschickt auf die "Zielgruppe Politik" ausgerichtet wurde.  In aktuellen Debatten und politischen Statements zur Homöopathie ist "Beliebtheit" eine stets mehr oder weiniger deutlich zu vernehmende Grundmelodie.
So weit, so sinnbefreit. Aber nehmen wir doch die "Beliebtheit" mal beim Wort. Ist sie wirklich so groß, wie es die VertreterInnen der Homöopathie glauben machen wollen? Aus unserer mehrjährigen Aufklärungsarbeit heraus haben wir inzwischen nicht unbedingt den Eindruck, dass das so ist. Die Reaktionen auf öffentliche Vorkommnisse in diesem Jahr (gewisse Abmahnungsdesaster und gewisse satirische TV-Beiträge) lassen die Zweifel am reinen Tatsachengehalt des Beliebtheitsarguments weiter wachsen.
Nicht nur einmal haben wir darauf hingewiesen, dass die Umfrageergebnisse, die die Homöopathiefraktion seit langem ins Feld führt, eine Ableitung von "Beliebtheit" nicht zulassen. So, wie sie dastehen, können sie allenfalls große Unwissenheit bei der Bevölkerung und korrespondierend dazu große Erfolge bei der Vermarktung und Bewerbung der Homöopathie belegen. Unbestritten haben schon viele Menschen von Homöopathie gehört (Allensbach 2014:  94 %). Wenig verwundert auch, dass etliche davon Homöopathika bereits verwendet (60 % der Gesamtbefragten) und beinahe 9 von 10 Anwendern "gute Erfahrungen" mit Homöopathie gemacht haben (46 % "hat geholfen", 39 % "hat nicht immer geholfen"). Wir haben schon oft erklärt, was es damit auf sich hat.
Weniger bekannt ist, dass es von Allensbach auch eine Befragung dazu gab, ob diejenigen, denen die Homöopathie bekannt war, mindestens ein Wirkprinzip benennen könnten. Was eigentlich die Kernfrage ist, denn wie kann etwas als "beliebt" attributiert werden, über das man gar nichts weiß, zudem auch noch im Kontext von Gesundheit? Und da sah es dann so aus: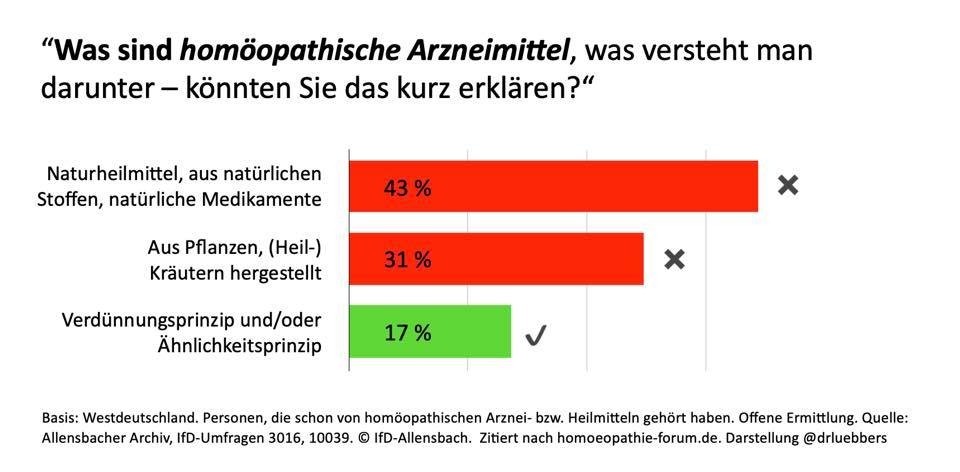 Siebzehn Prozent – von 94 Prozent. Angesichts dessen die "Beliebtheit" der Homöopathie zum entscheidungsrelevanten Faktor für die Politik hochzujazzen, ist schon – na, sagen wir mal, sehr gewagt.
---
Interessanter noch wäre eine Befragung, die Aufschluss darüber gäbe, ob die Leute nach einer Aufklärung über die wirklichen Grundprinzipien der Homöopathie immer noch an ihren Ansichten festhalten würden. Und genau das haben die amerikanischen Skeptiker vom Center for Inquiry (CFI) im September 2019 getan.
Das CFI führt bekanntlich Rechtsstreite wegen Betruges gegen die größte amerikanische Apothekenkette CVS und die Kaufhauskette Walmart. Dabei geht es – um genau zu sein – um die Tatsache, dass CVS und Walmart in ihren großen Selbstbedienungs-Drugstores die homöopathischen Mittel ohne besondere Hinweise mitten zwischen den regulären Pharmazeutika stehen, nur nach Indikationen geordnet. Das CFI hat sowohl CVS wie auch Walmart mehrere Male aufgefordert, dies zu ändern, ohne dass hierauf jemand reagiert hat. Und nun stützen sich die Betrugsklagen gegen beide auf diesen Umstand.
War da nicht was mit Kennzeichnung, 2017 von der Verbraucherschutzbehörde FTC (Federal Trade Commission) gefordert? Ja, in der Tat, aber nicht alle Hersteller halten sich daran (anders als Anordnungen der Food and Drug Administration -FDA- haben die Regeln der FTC keine Gesetzeskraft) und ohne Zweifel sieht man die Kennzeichnung auch nicht unbedingt, wenn die Packung da so friedlich im Regal herumsteht. Wie dem auch sei – die Prozesse bewegen sich derzeit im nach amerikanischen Recht üblichen Vorfeld von Anträgen, Gegenanträgen, auch von Feststellungen des rechtlichen Schutzinteresses. Und um den letzteren Punkt, das Verbraucherschutzinteresse und damit das Klagerecht, zu belegen, hat das CFI eine Befragung von Käufern homöopathischer Husten-, Erkältungs- und Grippemittel ("cough, cold and flu") bei CSV und Walmart "vor Ort" in Auftrag gegeben. Mit mehr als interessanten, wenn auch nicht unerwarteten Ergebnissen.
Das CFI konstatiert insgesamt, dass sich ein großer Prozentsatz der Befragten nach der Aufklärung über Homöopathie von CVS und Walmart "getäuscht und hintergangen" fühlt und ihr Vertrauen in diese Händler  "missbraucht" sehen. Dieses Gesamtfazit ist natürlich der Prozesstaktik geschuldet. Wie aber sieht es konkret aus?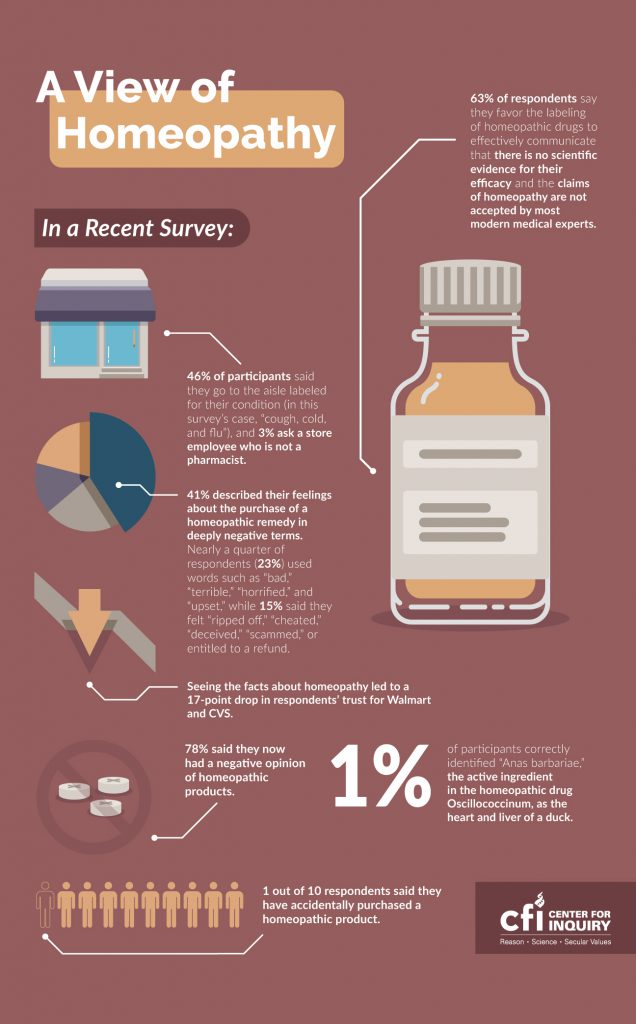 Fast die Hälfte (46 %) der Befragten gab an, dass sie sich nach der Indikations-Kennzeichnung der Gänge und Regale richten, sich also darauf verlassen, was ihnen die Händler vorgeben. 3 Prozent fragen einen Angestellten (der dort allerdings kein Apotheker ist).
Nachdem den Befragten die wesentlichen Fakten über die pseudowissenschaftlichen Grundlagen der Homöopathie mitgeteilt wurden,
zeigten 41 Prozent der Befragten erhebliche Betroffenheit ("described their feelings in deeply negative terms"),
fast ein Viertel der Befragten (23 Prozent) benutzten Wörter wie "schlecht", "schrecklich", "entsetzt" und "verärgert",
15 Prozent äußerten, sie sich würden sich "abgezockt", "betrogen" oder "getäuscht" fühlen, seien "aufgebracht" oder würden eine Rückerstattung verlangen,
drei Prozent kamen dahin, sich selbst als "dumm" oder "töricht" wahrzunehmen.
Die Information über den realen Hintergrund der Homöopathie ließ den Vertrauensfaktor gegenüber CSV / Walmart um 17 Prozentpunkte zurückgehen. (79 auf 62 %). Bei 13 Prozent verkehrte sich die Wahrnehmung dahin, dass sie den Handelsketten nur noch "ein wenig" oder "gar nicht mehr" vertrauen (29 auf 16 %).
63 Prozent der Befragten sprachen sich für die Kennzeichnung von homöopathischen Arzneimitteln aus, wie von der FTC empfohlen. 78 Prozent der Befragten gaben nach der Information zu Protokoll, dass sie jetzt eine eher negative Meinung zu homöopathischen Produkten hätten. Immerhin 10 Prozent gaben an, schon einmal unbewusst ein homöopathisches Produkt erworben zu haben, obwohl ein pharmazeutisches gewollt war.
Ein kleiner Schlussgag: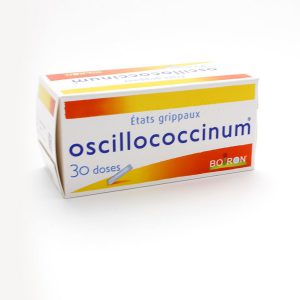 Vor der näheren Information wusste nur ein Prozent aller Befragten, dass es sich bei "Anas barbariae" , dem "Wirkstoff" der Boiron-Cashcow Oscillococcinum (meistverkauftes Homöopathikum in den USA), um den alkoholischen Auszug aus Herz und Leber einer Ente handelt (Moskauer Ente, Moschusente, Cairina moschata). 22 Prozent dachten, dass Anas barbariae die Bezeichnung für einen pharmazeutischen Stoff sei, 13 Prozent hielten es für ein Vitamin. Nachdem die wahre Natur des Inhaltsstoffs erklärt wurde, sahen fast die Hälfte der Befragten (46 Prozent) das Produkt "weniger positiv".
Fazit:
Wir zweifeln nicht an ähnlichen Ergebnissen bei einer solchen Befragung in Deutschland – vielleicht nicht mit identischen Werten, denn in Deutschland ist die Homöopathie nun mal mit "sozialer Reputation" stark verankert. Aber die Tendenz wird unbezweifelbar genauso sein, wie es auch unsere tägliche Aufklärungsarbeit immer wieder zeigt: Wer bislang un- oder desinformiert war und gegenüber sachlicher Information über die Grundannahmen der Homöopathie unvoreingenommen ist, wird seine Schlussfolgerungen ziehen.
Und eigentlich – ja, eigentlich müssten hier bei uns die Apotheken die Aufgabe übernehmen, die in den USA die Befrager übernommen haben (immerhin gibt es hier die Apotheken statt Selbstbedienung): Konsequente faktengerechte Aufklärung über Homöopathie, sofern sie über die Theke der Offizin gehen soll. So manche tut es – sehr viele aber wohl eher nicht.
Jedenfalls ist eines klar. Die Politik sollte endlich realisieren, dass eine  vermeintliche "Beliebtheit" der Homöopathie nicht einmal in die Nähe dessen kommt, was man gemeinhin ein Sachargument nennt. Und dass man auch in der Politik, wenn man dem Raum gibt, Verantwortung trägt: Nämlich dafür, dass unhaltbare bis potenziell gefährliche Fehlannahmen breiter Kreise über eine spezifisch unwirksame Methode fortbestehen, die ungerechtfertigterweise als Teil von Medizin angesehen wird.
---
Bericht des CFI über die Befragung mit Link zur Originalstudie
Anmerkungen zur Allensbach-Studie und anderen Erhebungen bei fowid
---
Bildnachweise: Bild von tookapic auf Pixabay / Allensbach – Dr. C. Lübbers / Center for Inquiry